Here is an opportunity to do something that will
HONOR OUR VETERANS!
Help Dani Offset Her Travel Expenses So She Can
Sound TAPS in all 50 States and complete her Mission
Please donate so Dani can continue on her Quest.
We're always looking for enthusiastic men and women to help with our organization. Bugler Volunteers can be male or female. The bugler can be of any age as long as they can play the 24 notes of Taps with an ease and style that will do honor to both the Veterans, their families, and the burial detail performing the service. If you are interested in volunteering, please click here to fill your registration form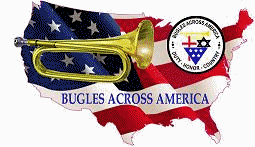 Thank you for supporting this valuable cause. Please donate what you can to help Dani with her travel expenses as she wants to sound TAPS in ALL 50 STATES. Dani completely volunteers for doing this but she does need your help. Every dollar makes a difference.